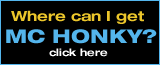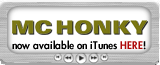 MC HONKY
I AM THE MESSIAH
EXCLUSIVE REAL AUDIO PREVIEW!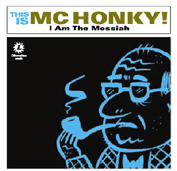 Click for complete song in Real Audio


Sonnet no. 3 (Like A Duck) (56k|256k)
A Good Day To Be You (56k|256k)

---
MC HONKY: WHEN? WHERE?
I AM THE MESSIAH will be released:
Australia: Liberation Records, November 4, 2002
UK/Europe: B Unique Records, March 31, 2003
U.S.: SpinART Records, April 8, 2003
JAPAN: Imperial Records, June 25, 2003

More info coming soon. Stay tuned to the Honky!

privacy policy
WHY IS MC HONKY THE EELS' FAVORITE SILVERLAKE DJ?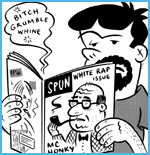 From the concrete banks of Silverlake, California comes a brand new sound that's taking the world by storm! This is MC HONKY and his debut album 'I AM THE MESSIAH'!
Mr. Honky is, in fact, a reclusive remix wizard who cares little for the show business and its trappings. Unwilling to let the public know much, the puzzle pieces are as such: he is a shy, native Los Angeleno in his mid-fifties who began his love affair with sound as a teenaged janitor at the Capitol Records studio in 1959.
In 1968, after working his way up from janitor to second engineer, Mr. Honky got his first job as a first engineer, recording the ill-fated Frank Sinatra "Gunga Din" album for Reprise. Honky gave up show business in the seventies, marrying the delightful Mrs. Honky and concentrating on his other passion, pottery. His successful pottery business in full swing, the electronic music of the eighties re-ignited Mr. Honky's passion to work with music again.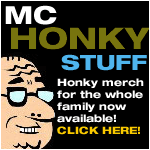 With Mrs. Honky taking over the pottery business, Mr. Honky turned his energies full time towards utilizing his huge vinyl record collection to create massive sound collages and virtually inventing a new genre of music he calls "self help rock."
In 1999 Mr. Honky's daughter attended a concert at Los Angeles' El Rey Theater, where the rock band Eels were performing. She handed a tape of some of her father's sonic collages to Eels leader "E" after the show. Wholly impressed, the Eels' singer contacted Mr. Honky, expressing interest in producing an album of his work and offering support and help in telling the world about MC Honky, going so far as to give MC Honky space on the Eels website. The resulting album, I AM THE MESSIAH was recorded in the summer of 2000. E produced and guests on several cuts. Other guests on the album include Silverlake hipster-producer Mickey Petralia, R.E.M. drummer Joey Waronker, and the Eels' drummer Butch. Silverlake staples Koool G Murder and Li'l 'Fer step in for stunning guest vocalist appearances.
These guests collide with Mr. Honky's massive record collection and remix genius for a sound unto itself. Check out the first cut, "Sonnet no. 3 (Like A Duck)." One part Shakespeare Sonnet and two parts physical fitness training. Feeling a little down on yourself? Listen to "A Good Day To Be You" and remember how great you are. Can't stop your obsessing? "The Object" can cure you.
Not released until 2002, due to Mr. Honky's mercurial nature, I AM THE MESSIAH is finally here and the world will be a better place because of it. Now, sit back, press PLAY, and feel the love of MC HONKY!