11/27/2000
BUTCH MOONLIGHTS WITH RUFUS
Addicted to drumming drummer Butch is currently helping out Rufus Wainwright by hitting his drumsticks to drumheads attatched to actual drums at Rufus' shows at L.A. club Largo. Come see Butch play and sing, and - don't worry, he won't be doing any of his solo act. Butch must stay out of the house as much as possible until he is needed back in the EELS basement in january for more EELS recording with John Parish.
11/20/2000
JUST WHERE HAVE THOSE EELS BEEN?
Ladies and gentlemen, the Eels would like to apologize for being a little out of touch with you. You see, it was out of their hands. But they have always cared about you. Those of you who have had run-ins with the band know this to be true.
And so they took matters into their own talented little hands and have put this web site together with the fine folks at ARTISTdirect. So now, if you come to me, I will tell you what's up with the Eels. If you have questions, just ask.
The Eels are working hard to bring you tomorrow's music tomorrow. No resting on the laurels, not the Eels. after bringing the Eels Orchestra 2000's live show to many towns around the world, they stopped in to play on the david letterman show in august. a concert at the Bowery Ballroom in New York and then straight to the recording studio. well, the basement, really.
Many exciting things in the works!
Besides compiling the new OH WHAT A BEAUTIFUL MORNING live cd:
The eels wrote and recorded a new song "Christmas is Going to the Dogs" for the new film "How The Grinch Stole Christmas." The song is sure to be a classic for weeks to come. The best part for E was having the film's director, Ron Howard, in his house, answering his many questions about Opie and Richie Cunningham.
Also look for some Eels music in the upcoming film "The Anniversary Party", written, directed by, and starring Jennifer Jason Leigh and Alan Cumming, also starring Gwenyth Paltrow and Kevin Kline. Coming early 2001.
...And all the while the Eels are working on their next Dreamworks album. e wrote a brand new batch of songs with Peter Buck from R.E.M. and some more with John Parish from P.J. Harvey. those in the know say this is some of the coolest stuff they've ever heard from the eels.
Stay tuned for some REALLY BIG film news in the future.
E played a solo show at the getty center in Los Angeles on Oct. 20th. a fan was invited to sit in a giant chair onstage while e debuted several brand new songs.
E also did a surprise solo show at largo in l.a. on nov. 4th. with an opening set by the fantastic Girls Guitar Club and then a rare solo performance by Butch! (you must experience this to understand).
Meanwhile, in their spare time, Butch likes to fish in his kid's baby pool in the backyard, and e likes to write songs.
The Eels favorite new artist is a Silverlake dj called MC HONKY. look for his debut album "I AM THE MESSIAH" in the spring of 2001! PEACE!
Please e mail us with any suggestions and questions about things you want to know more about. We are here to serve you, the faithful Eels fan.

10/30/2000
EELS BECOME FODDER FOR U.S. PRESIDENTIAL RACE!
EELS latest cd "Daisies of the Galaxy" hse been singled out by the George W. Bush campaign as an example! Spokesmen for George W. Bush would neither confirm nor deny that George W. has no sense of irony and cannot define the word "art."
Check this out from the George W. website:
Offensive CD Distributed at DNC Fundraiser:
During a fundraiser at the Democrat National Convention, a compact disc, "Daisies of the Galaxy," by Eels was handed out. Democrats say the CD was not meant for or given to children, but the material was directly marketed for children. The CD features cartoon children on the front cover, but contains songs such as "It's a MotherF@#%" and lyrics like, "When I grow up, I'll be an angry little whore."
The "Daisies of the Galaxy" CD cover and lyrics can be made available in .pdf format by calling the Bush campaign. They can also be downloaded off the Dreamworks website at www.dreamworksrecords.com.
Here's more from The Washington Post:
Richard B. Cheney, Republican George W. Bush's running mate, attacked on the Hollywood issue for the second day in a row, asserting that Gore "seems prepared to say virtually anything to any audience and to switch from audience to audience."
"He threatened the media industry with retribution or regulation if they didn't shape up within six months and then yesterday, he said, well, he didn't really mean it," Cheney said during a visit to the Sacramento area. "He just wants to nudge them a little bit."
At the same time, Bush campaign spokesman Ari Fleischer tried to tie Gore to a compact disc containing obscene song titles and lyrics--and a cartoon cover--that was distributed as a party favor to guests at a luncheon in honor of Rep. Nita M. Lowey (D-N.Y.) during last month's Democratic National Convention. The DreamWorks studio was a sponsor of the luncheon, and the disc is a product of DreamWorks Records.
Fleischer said the combination of the obscene words and child-friendly jacket "shows that America's families and parents cannot count on Al Gore to stop Hollywood from marketing this stuff to children."
Lowey's office said today that the disc, "Daisies of the Galaxy," by Eels, was not meant for or given to children.

10/28/2000
MY BELOVED SPIDER
by E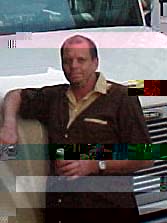 Our good friend and longtime stage manager, Spider, was always full of surprises. In august he really surprised us all by dropping dead. It was a shock that we may never fully recover from.
Spider was with us since 1996, when the Eels went out on tour just as "Beautiful Freak" was being released. His first show with us was in Indianapolis, the day before the album came out. He met us at the airport. There he was with his many earrings and his deep boston accent. He scared the shit out of us.
But as time went on, we learned that beneath that loud hawiian shirt beat a heart of gold.
That heart stopped in August, but, and I know it sounds stupid, his presence is still with us. That's why it's so hard for us to accept that he's really gone. Because he was always there.
Some of you know that sometimes spider would even open the eels concerts with his own set of songs. He would be tuning guitars, bringing out water for the band, and then just start playing his own songs over the p.a. then he'd tell some jokes. And on some nights, much to our horror, he would conduct a question and answer period with the audience where you could ask him ANY question about the Eels. And he would answer them.
After my mother died and I had no more family, I had to go clean out my family's house in Virginia. One person came to help me: Spider.
I really can't imagine going on without him. My guess is we will, but it will never be the same, or as good. We just have to accept that, i guess.
If there's a rock & roll heaven, there's gotta be a hell of a road crew.
So long, pal-e